The Tradition Continues at Mr. J's Barbershop
Your name(s):    Manuel (Manny) Vazquez
Company name:   Mr. J's Barbershop
Your position:   Owner/ Barber
Website:   Www.MrJsBarbershop.com
Phone number:    908-232-8879
Business address:    607 South Ave W, Westfield, NJ 07090
Congratulations on continuing the tradition of the legendary Mr. J's Barbershop in Westfield!  How is it going and what do you like about the downtown and local community?
Thank you! Continuing such an amazing legacy is very humbling. The shop has come so far since 1966. Besides the obvious remodel, barbering has changed drastically. New techniques, technology and demand for barbers are higher than ever. We love the fact that we are still considered Westfield Downtown. It's nice to be close enough to the town's heartbeat. The local shops are so welcoming and the variety of business are really something to be a part of.
You have a vast experience in this business. Please tell us a bit about yourself and your path to success.
It's been almost three decades that I have been in the industry. Barbering has come a long way and it's here to stay. I started off in the 90's cutting hair out of my mom's basement. I quickly felt in love with the art of barbering and new I one day wanted to own my own shop. After a few different shops I finally opened my first shop, Cut N' Lounge in Elizabeth, NJ. It was there that I learned how to actually run a business. Cut N' Lounge was one of the first shops in Elizabeth to give you that NYC Village vibe. Very trendy in design. I then continued on my path for years to come. It was in 2008 when I opened up American Shave Classic Barber in Union, NJ. American Shave is a trendy and upscale place. We have become a staple in town and are currently operating in the heart of Union Center.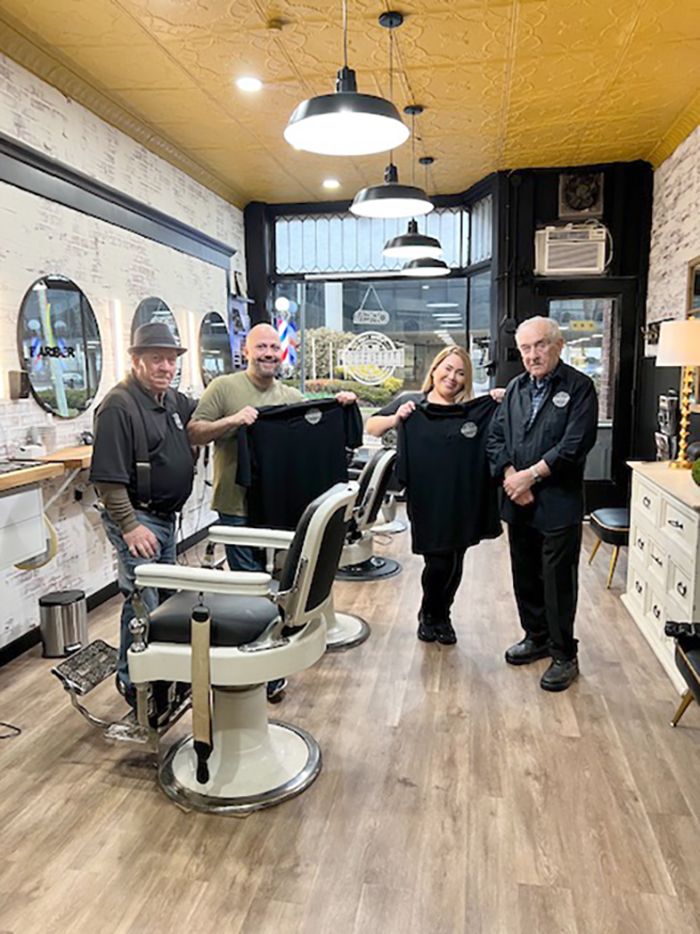 Why was it important to you to continue the 70-plus year tradition of this barbershop? How is Mr. J doing?
It was important to continue the tradition at Mr. J's because it's easier to forget and erase something than to hold on to something that needs work, love and care. Mr. J's was a Diamond in the rough. A place that has so much history, a staple in town. Why erases such history? It is important for people to know and remember how thing were, where it came from and how we evolved.
You've really upgraded the place since you launched. What can the neighbors expect when they visit?
We've definitely upgraded the place! I believe we did a good job with getting rid of the old smell the place had that's for sure. The original tin ceiling is still up with a coat of gold paint. Three original Theo A. Kochs barber chair were semi restored. New floors, some lighting as well as mirrors are all new. You will find some old pictures of Mr. J in the 50's and a few articles when the Mayor went in for the 50-year anniversary.
Tell us about your wonderful team of professionals. 
Our team is small, to start we have the original barber on board Mr. J himself as well as Sam who has been cutting hair for a long time.  He spent time barbering in Venezuela and we have his picture on the wall to prove it. Sam is 85 and works two days a week. He still does the traditional shaves. Debbie has been in the industry for about 15 years and is one of my top barbers. She is very versatile when it comes to styles. She also is a master of the straight razor and can give an amazing shave.
What are some of the newer trends in the hairstyle category?
Trends come and go and the good ones always come back! Believe it or not the mullet is back with a twist. We see a lot of guys with the skintight fade on the side as well as the traditional part. Many guys are wearing beards and grooming them is definitely a weekly thing.
As a business owner, please tell us how others can learn from your commitment and inspiration?   
Taking a deep breath and telling yourself that everything will work out is something I say to myself all the time. Keeping God in your life is definitely why my business has been successful. Standing by your work and staying dedicated no matter what, is very important. Always conduct a professional environment and give your clients the same respect you'd like in return.