Local Artist Graduates WHS Leaving Lasting Legacy Meet Lauren McDonough
Your name: Lauren McDonough
Grade: Graduate Westfield High School Class of 2023
College: Freshman, Boston College
Company name: LAM Pet Portraits
Your position: Founder and artist
Website: www.lampetportraits.com
Business address: lauren.mcdonough@comcast.net
Can you provide a bit of background about yourself as a student at Westfield High School? How does it feel to now be a graduate?
It's only been a few weeks since our WHS graduation, but the feeling is surreal. I spent twelve years in the Westfield public school system with my friends and classmates, and all of a sudden we're WHS alumni! The last four years at WHS have been wonderful. I made strong friendships through sports, clubs, and activities and I took a lot of classes I was interested in, including AP Psychology, AP Environmental Science, AP Literature and Composition, and four years of art. I am thankful for all my teachers who made learning so interesting and fun. I loved playing goalkeeper on the field hockey team for all four years at WHS, and I am truly grateful to Coach Varhley and the coaching staff for their support on and off the field. I also enjoyed being actively involved with WHS's chapter of Girls Learn International, as we advocated for and educated the school community about women's rights.
Can you tell us about college? Where are you going to school? How do you feel about leaving?
I am excited to attend Boston College in the Fall. While it is sad to leave my friends, family, neighbors, local restaurants and businesses, and the peers I grew up with here in Westfield, I can't wait to get situated on BC's campus, meet new people, and explore the city of Boston!
What do you want to study?
I am enrolled in Boston College's Morrissey School of Arts and Sciences. I plan to pursue Psychology and Studio Art.
Tell us about your experience as an artist? How long have you been doing it?
I have been creating art for as long as I can remember. I grew up with crayons, paintbrushes and pencils always within reach. The idea of portraying something from my imagination in the visual art form, making a blank canvas come alive with brilliant colors, has always fascinated me. Thanks to my parents, who have always provided me with art supplies from a very young age, I was, and am, always ready to create!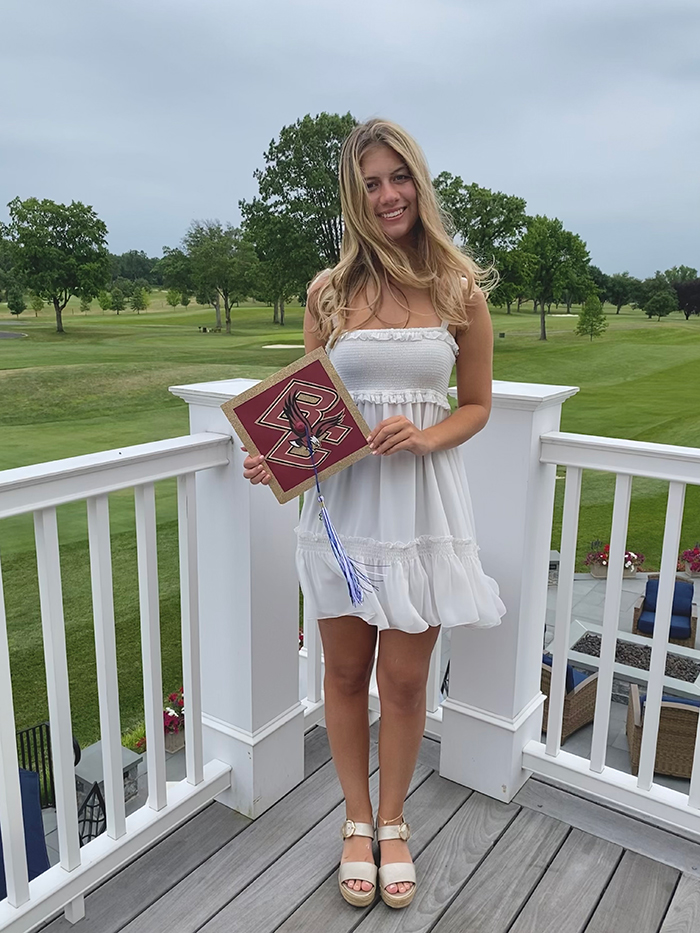 You are an entrepreneur as well. We have featured your work before, but please update us on your business.
Senior year was extremely busy, so I had to tap the brakes and slow my commissioned portraits work. Since graduation, I have more time and the opportunity to begin accepting more work. If you're interested to learn more about my business, LAM Pet Portraits, please visit my website at www.lampetportraits.com !
What was your passion behind the painting of Dr. Nelson? Did you know him? Can you tell us a little bit on how this all came together?
Each graduating WHS Senior is required to complete a Senior Project over a two-month period and orally present their work to their English teacher and classmates. I knew I wanted to create a positive, lasting impact on my school community incorporating visual art. Dr. Nelson's complete and utter selflessness was the first impactful vision that came to mind when brainstorming Senior Project ideas. His character and impact on WHS and the world has resonated with me since I first heard his story. I did not know Dr. Nelson personally, but I felt like I did after listening to several first-hand reflections and wonderful, inspiring stories about WHS community members' experiences who knew him. I drafted my Dr. Nelson mural design and was pleased that I was asked to commence the piece. The WHS Hallway Arts Initiative team provided me with a 4' x 4' wooden board to paint the mural on. Through the encouragement of my friends, family, WHS Arts Commission, and AP Literature and Composition teacher Mr. Della Fera, I was able to make my vision a reality and share the mural with everyone.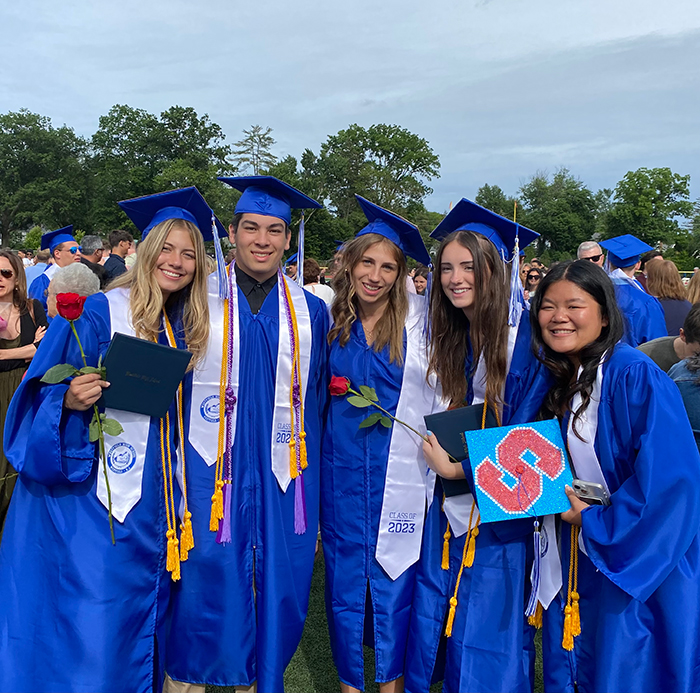 What did Dr. Nelson mean to the high school?
I believe that Dr. Nelson strived to represent all of the values of WHS. He brought a strong aura of leadership, kindness, fairness, bravery, friendship, and deep caring into the school community.
We can all agree your painting is an incredible showcase of artwork. Where is it going to be placed?
Thank you! The WHS Arts Commission is currently deciding where the mural will be placed inside the school.
Your family and friends must be really proud of you. How does that make you feel?
I am so thankful for all the support I received throughout my K-12 academic career and art journey, to date. I feel so lucky to have so many people who care about me and encourage me!