Celebrating 102 years of Life, Love and Laughter! Meet Ruth Gabay

As of September 2022,
Ruth Gabay has been
on this earth for 102 years.
Tell us about your roots, and life as a young girl.
I was born Ruth Dhue, and raised in countryside of Jamaica, the eldest of two daughters. My father was Chinese, from Hong Kong, and my mother from Jamaica. Life was a bit of a struggle early on. My father died while my mother was pregnant with me. Mom worked hard as a single mom, remarried and we uprooted a bit but the marriage failed and we then moved in with my maternal grandmother. She was a strong, fastidious and refined woman herself.
My younger sister had her first child at 16 and went on to have 10 children, 7 of whom survived. I stopped school in the 6th grade to help her and needed to fend for myself way too early. I had no real mentors or support so I had to pave my own way.
You became an accomplished dressmaker and designer in Jamaica. How did you get your start in that field and how did it continue?
Oh dear, I have wonderful taste! I gave material to a dressmaker to make dresses for me. She made the whole dress inside out! I was really disappointed! I thought to myself, this isn't going to happen to ME again! So, I started making my own dresses. I ended up opening a dress shop, Ruth Dhue's Dress Shop, above a famous Jamaican jewelry store. It was one simple room with mannequins, sewing machines, cutting tables and a screen for privacy and try-ons. I was the owner and several girls ran the sewing machines.
Tell us about your first journey to America.
I went to FIT (Fashion Institute of Technology) for pattern-making and designing. It was exciting and I was confident. I took classes and also worked in a department store to support myself. I was hoping to stay and work in the garment district but I had to leave after one year. I injured my thumb on a machine and it got infected badly. I had no health insurance and needed medication so I had to return to Jamaica. I was very disappointed but I had no choice.
What happened when you moved back to Jamaica?
I had my first and only child, Nancy, at age 41! I continued in the dress shop and helped with my sister's children from time to time. I worked so hard up until all hours making dresses to get them out on time but still managed to keep my own sense of style and have a great social life! I still made my own clothes and dressed well.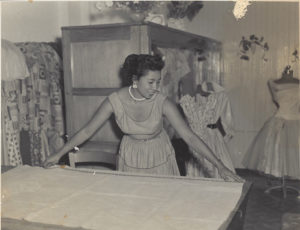 Family life and responsibilities altered your path in life and your professional aspirations. Any regrets?
I did put my interests on the back burner but life was hard. We have responsibilities. No, I don't have any regrets. Sometimes the family does not appreciate what we do. In my tough, hard life, I have managed to meet GOOD, kind people, and I maintained trust in people.
Tell us about your journey to America permanently.
I was married and we moved with Nancy first to Brooklyn. When that marriage failed, we moved to Flushing which set Nancy up for good schooling.
You display many characteristics of a strong woman who then single-handedly raised a daughter later in life and had a hand in raising two granddaughters. Do you see yourself in these women?
I see my ambition in all of them even though I did not achieve mine. Nicole is the fashionista and a dancer currently in the Broadway touring production of Hamilton. Christine is a genomics and systems biologist with PHd aspirations but also has an artistic side. She created and continues to run an online sci-fi and social commentary comic strip. Nancy, my daughter, paints and draws as well, and many pieces we have on our walls in the house. Early on, Nancy would design dresses that I would then make for her.
I see their sense of color and fashion and their strength is more powerful than mine. Nicole even wore Nancy's prom dress that I designed to her own prom several years ago.
Speaking of living with two twenty-something granddaughters, how do they help you stay hip and current?
According to Nancy I am very hip, and always critiquing everybody's outfits.
Aging while living with the girls kept me physically active. Knowing about their favorite stars and musicians kept me young at heart. It goes both ways. I do like People Magazine and keep everybody up on celebrity divorces and goings-on. The Weekend? I really like him. That Ezra Klein? He is handsome and intelligent.
A few years ago, I said I wanted to be entertained by my phone like everybody else! Until then I had an iPod for my music. Nancy got me an iPhone and now I use Alexa for my music, to turn out my lights, even to send voice messages to Nancy to let her know I made soup for dinner!
You moved to Westfield as a senior. How did you manage to adapt socially and what is your favorite part of town?
Yes, I moved here with Nancy, her husband Steve and their two daughters when they decided to leave NYC. Change is hard at a late age. The house has an in-law suite so it was perfect but I took one look at all of the wooded greenery and said I am not living here! I thought I would lose my freedom. But then I found the YMCA. It was there that I flourished. It really changed my life. I took arthritis classes, went in the pool, met lifelong friends and had a place to call my own. The physical, social and psychological support was wonderful. Those instructors are strong warriors. They still come to visit sometimes.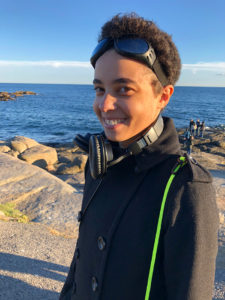 What are your pastimes and interests?
I love watching baseball. I like the Yankees. I also really like the Mets having lived in Queens and I think those players seem so sincere and just get along as humans. My son-in-law, Steven, is my whiskey-sipping partner for decades, and my baseball-watching buddy forever.
I also really like Judge Judy. I watch her whenever I can. She is a strong woman, and very straight forward. She puts people in their place but while encouraging them to advance themselves. She is helpful.
Do you still travel, and if so where have you gone lately?
We went to Jamaica a few years ago to Ocho Rios. We had a problem checking in because the system does not recognize birthdates over 100!!?
I have also been to Philadelphia and Texas recently to see my granddaughter in the Hamilton production.
In Jamaica I would recommend Port Antonio as lovely and unspoiled. Ocho Rios is a must with Dunn's River Falls, and Negril is a treat! We are a wonderful and hospitable country and our cooked foods and fresh fruit are heavenly.
What does daily life look like now for you? How do you keep yourself mentally and physically fit?
I just got up! Morning person or night owl? Both!
I have caretakers for a few hours every day but my daughter Nancy wonders who is taking care of whom! I remind them it is time for breakfast then my medicine. We Jamaicans like our porridge — banana and cornmeal porridge are mainstays. I make a killer mac and cheese according to my family and I have just discovered gouda as a key ingredient. I like to listen to all kinds of music from pop to r&b to soft jazz.
I am very particular about my dress and my hair, even still. I like cera ve moisturizer and use eye cream. Beyond Nails in town is where I go for gel manicures when I can get there. My hand therapist helps with dexterity and arthritis. I manipulate a soft ball or dried peas in a bowl and just started using paraffin wax treatments. Every night Nancy helps me apply heat to my hands, back and neck.
I do get lots of phone calls from friends. They think I'm wonderful!
Most vivid life memories. Top three.
I received 1st and 2nd prize for designing and making beauty queen gowns.
I remember as a very young girl biting my caretaker when my mom left me with her to go to work!
In my late teens 17 Magazine came to Jamaica to do a piece on beauty and included me!
Can you think of one of the greatest inventions of your lifetime?
The sewing machine of course!